Prince William County, Virginia Decorative Concrete
Many Prince William County homes have concrete surfaces that are old or damaged. Others have extra yard space that would make a great outdoor living. Think you can't afford what you want? Think again. Normal concrete is plain. Masonry is expensive.
Decorative concrete is a great option!
Decorative concrete saves you money and makes your property beautiful. It's a flexible, affordable, and creates nice concrete finishes. Seeking to renew your outdoor living spaces? Decorative concrete is for you. It'll increase the value and curb appeal of your Prince William County, VA property.
The beauty of stamped concrete will add to your pool deck or patio. Bring the style indoors with a concrete countertop. Concrete refinishing is a great option as well. It's an affordable renewal for your concrete surfaces! It's less expensive than a replacement. Decorative concrete walls are even more durable than traditional masonry.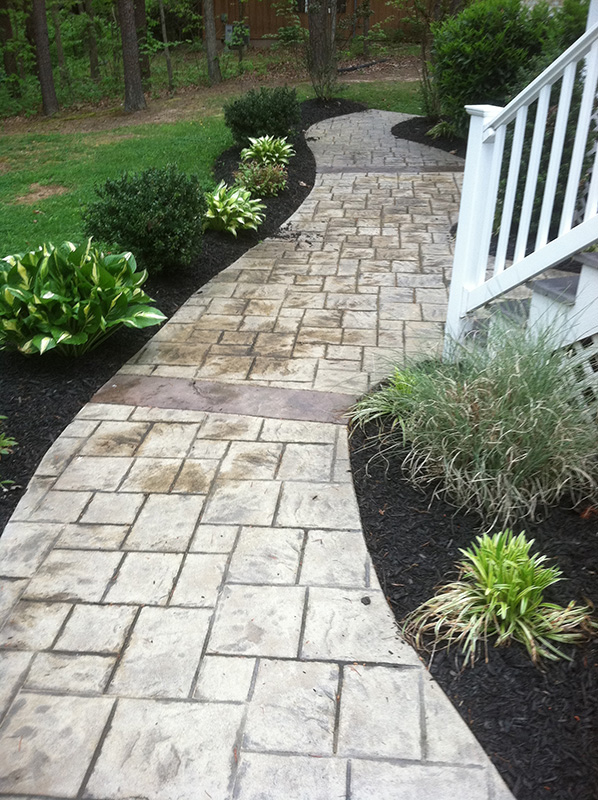 Services
Blackwater Designer Concrete offers:
You may even have seen our work on many residential and commercial properties in Prince William County. We use only top-quality stamping, coloring, and staining products from companies such as BRICKFORM and Stardek.
Our Work in Prince William County, VA
We've worked with many customers in Prince William County. We regularly work in Gainesville. As a family-owned company, we provide attention to detail and the best possible customer service.
Every project is unique and is treated as our priority. Our concrete artisans take personal pride in offering high-quality work with superior finishes. Blackwater Designer Concrete provides artistry with decades of the durability of concrete, at a lower cost.